The Background
Texas A&M is the largest and most dynamic university in the US, with 70,000 students on an ever changing campus in College Station.
Delivery method: Design–Build
Planned Finish: November 2024
Texas A&M's construction team acts as an owner's representative for the Texas A&M Board of Regents - the entity that approves and owns university capital projects. Texas A&M's construction team manages multiple projects simultaneously, and one such project is a business education complex for the Mays Business School at Texas A&M, a 4-story 83,000 square foot facility slated to be complete in November of 2024. In addition to the Board of Regents, the Mays business school will be the initial user of this facility, so they represent a second primary stakeholder in the building of the business education complex.
Looping In All Stakehlders
They have a hard time keeping all stakeholders on the same page with construction progress, despite already having liaisons in place to channel information efficiently.
Verifying Progress
They do not have an efficient way to verify that as-built matches BIM, relying heavily on on-site inspectors.
As-Built Documentation
They have not had an efficient way of documenting as-built construction progress for all owners, users, and maintenance teams that will be responsible for the buildings' operation.
With these challenges in mind, this is the second project Texas A&M's construction team is working on with Reconstruct.
The Solution
Reconstruct technology takes reality capture from a drone or a 360° camera and produces a realistic, measurable model of the as-built conditions of any site. Additionally, Reconstruct allows for the overlay of design drawings and BIM models onto reality for exact comparison of as-designed vs. as-built. The Texas A&M construction team is able to solve their challenges with Reconstruct in several ways:

In under an hour a week, anyone on Texas A&M's construction team is able to walk the site with a 360° camera, upload the footage into Reconstruct, and produce a realistic site walk experience for all stakeholders. This gives unprecedented access to the site with all stakeholders seeing the same thing.

Inside of Reconstruct, they can compare BIM to reality at every stage of the project, ensuring all construction teams are building to design.

During construction, during handoff, and well into the future, Texas A&M construction and facilities teams will have complete documentation of the project. Any claims or maintenance issues can begin with a single source of truth of how things were built and what's behind walls, ceilings, and underground.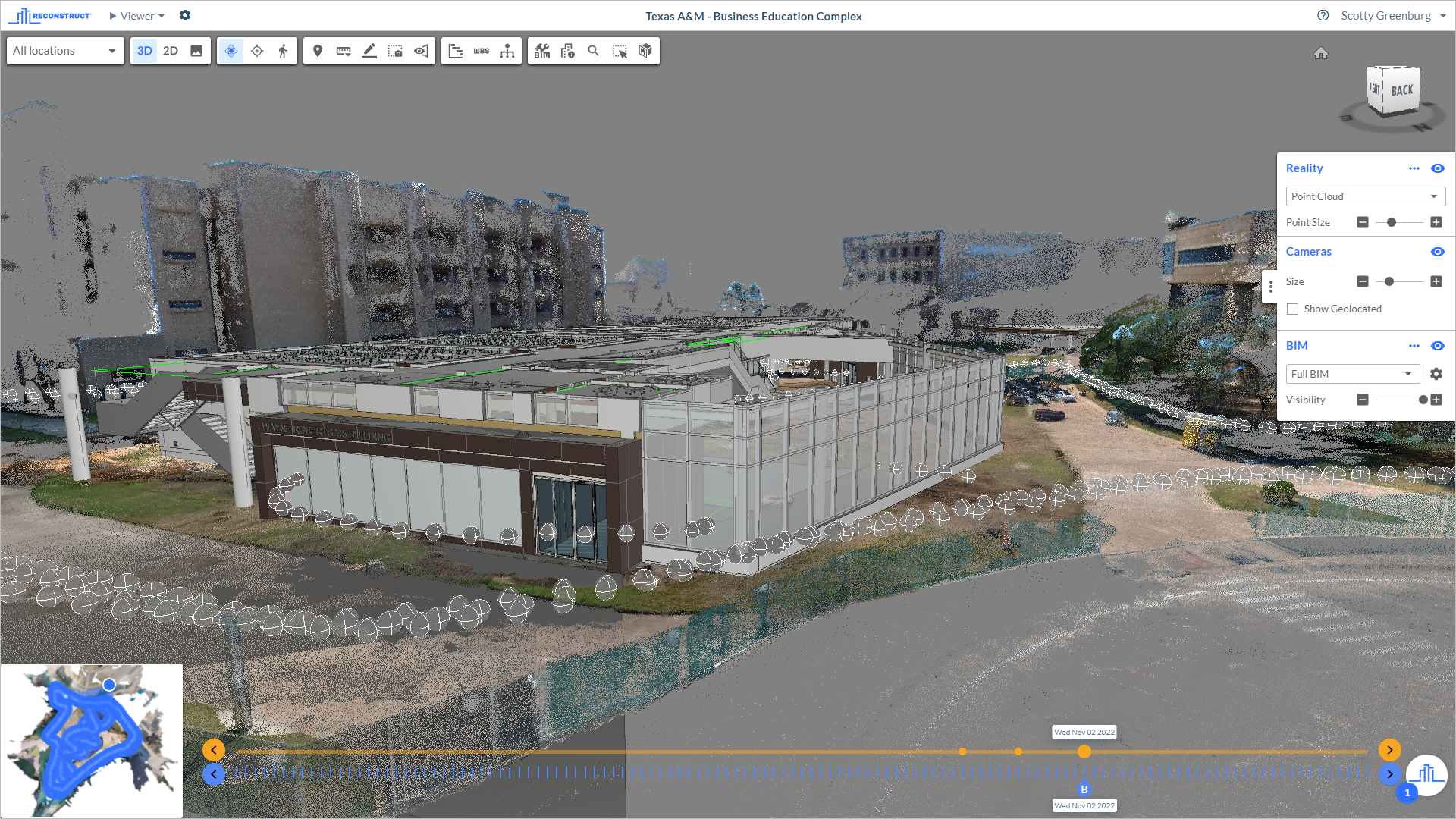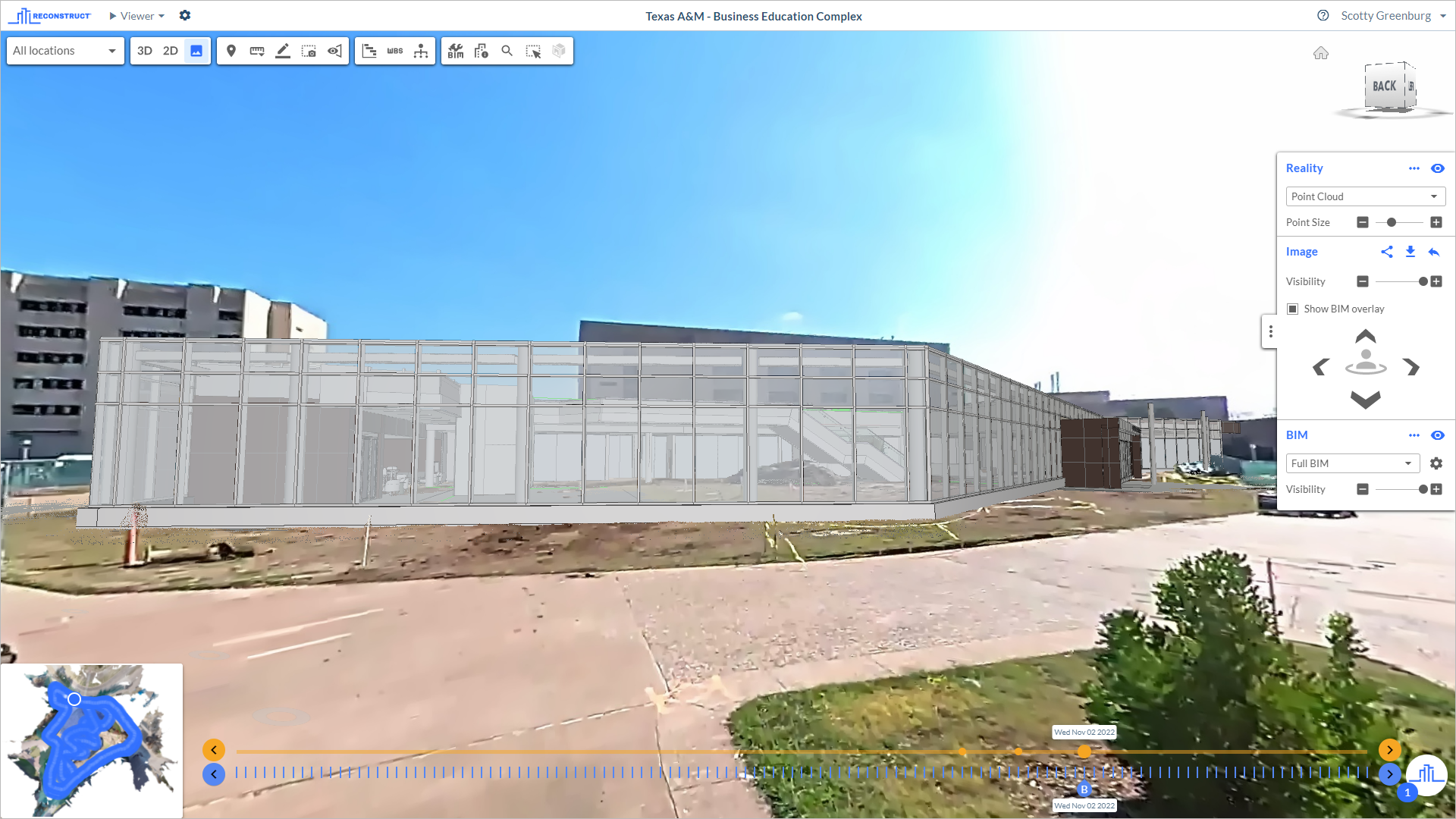 "We have the board of regents, the Mays Business School, and we even have Alumni that have donated to make this project happen. Reconstruct will be used weekly, if not daily to keep all stakeholders informed of project progress."
Chase Miller
Construction Project Manager at Texas A&M
The Value
Texas A&M's construction team's Project Manager, Chase Miller, was able to explain the value to their team and owners in multiple ways.
1.
For coordination with stakeholders
"I'm confident my team will be logging into Reconstruct every week, if not every day. And it won't just be our team. With the number of stakeholders all around the country, Reconstruct allows all the right people 24/7 access to the changes that are happening each day."

2.
For as-built is happening as-design
"I'd recommend Reconstruct for many projects, but especially for builds involving BIM. Reconstruct works really well to show what was installed versus what is supposed to be there. And it stays updated as the BIM model stays updated. Reconstruct is a very good coordination tool, basically documenting the project as it's being built versus waiting for a subcontractor to give me a paper as-built."
3.
For conflict and claim resolution during and post project
"If I had a claim or we had a conflict it for, from a project management standpoint, it's a tool that I could go back and say [to a contractor], 'The model shows this going here, however you installed it five feet off… and then say that because of their install, something screwed up, I can go back and basically show exactly where it's supposed to be, why it's supposed to be'. I think that's the biggest thing for us: everything that's designed and put in the model is put in there for a reason."
4.
And finally, for maintenance
"I'm sure it's invaluable to the facilities team because it's live as-built. Without ripping a wall down, you can tell exactly what's in it, know exactly where penetrations are, know exactly what's in a ceiling without taking ceiling tiles down… so it, it's really good for them also for our end users that are operating the facility."
Sign up for your personalized demo
Are you ready to benefit from full visibility into your sites?
Here's what to expect in a demo:
A discussion about your project(s) and your ROI goals with Reconstruct
A tailored overview of Reconstruct to suit your needs
Clear next steps to create success